Fastest all-in-one eCommerce solution for small business
React based,
live-streaming included

, nothing else to add or install, and

zero fees on revenues

.

Start now

(Try Live Cartel for free for 14 days, no credit card required)
Let your business grow online with Live Cartel
Setup your professional e-commerce in only 2 steps. Then customize the style of your store, upload your products, and start selling. Guests can buy with traditional checkout or during your live-promotions. Manage the orders received like a boss. It's all included, and all is simple and effective.
Live Cartel is perfect for any kind of business. Do you need inspiration?
Your Wonderful Online Store
Sell your products
Do you want to start a new business directly online? Do you want to bring your business online? Do you want to migrate from another eCommerce platform? With Live Cartel you can do it.
No themes to install
Your Live Cartel online store can be customized with very simple and powerful tools, without the need to buy or install anything, and without the need for technical assistance. Do it all by yourself.
All catalog options included
Create your catalog with unlimited products, variants and specific photo for the single variant, promotional prices, discount coupons, stock management, categories and tag and SEO options.
ZERO fees on your sales
That's right, we don't apply fee on your revenues, so you won't have hidden costs, and you can calmly grow your business by investing in promotion what you will save on sales costs.
Really simple to use
Forget the platforms that require you to work hard, with Live Cartel everything is intuitive, and very fast. Our technology is safe, effective and beautiful to use, for you and your customers.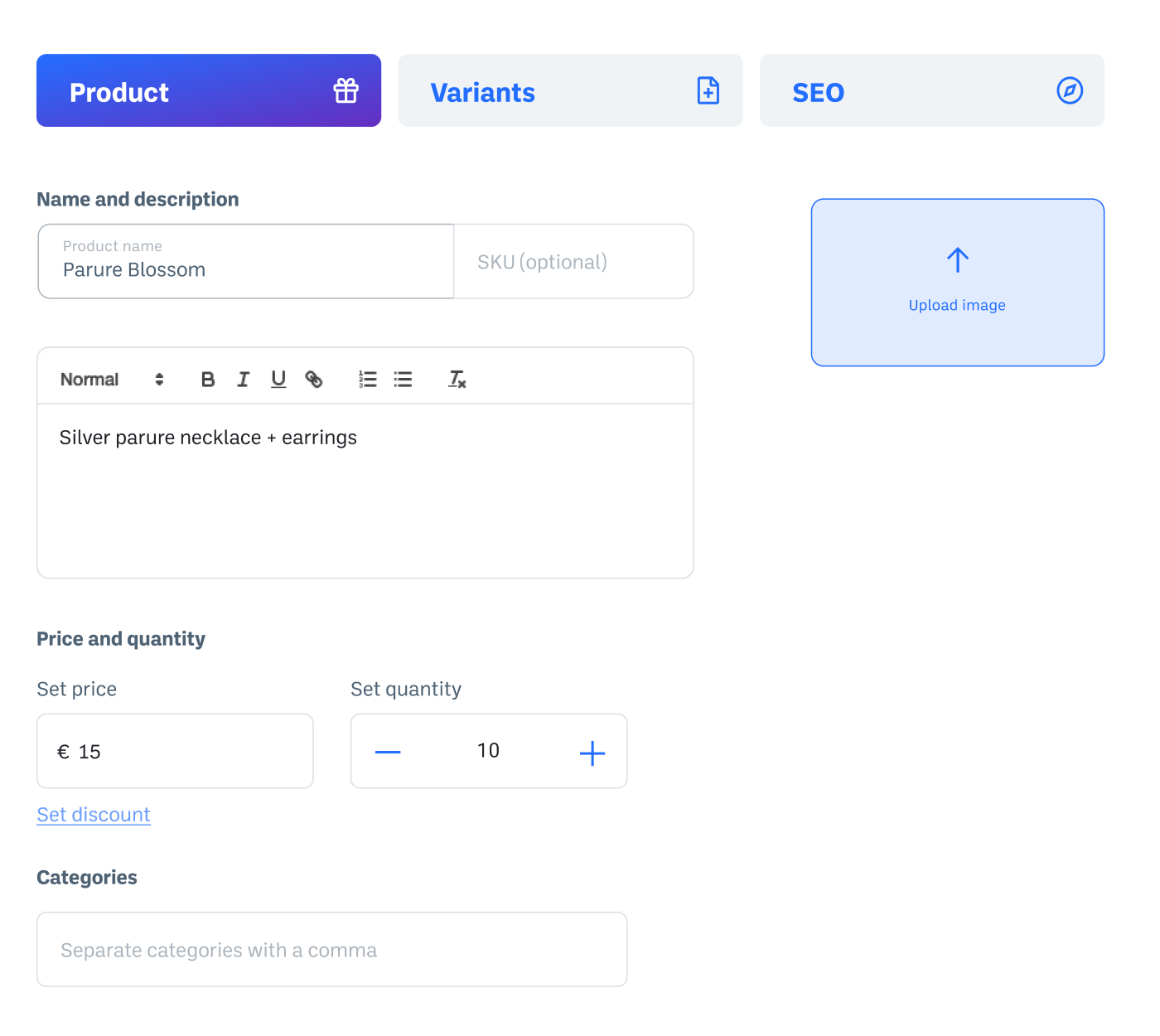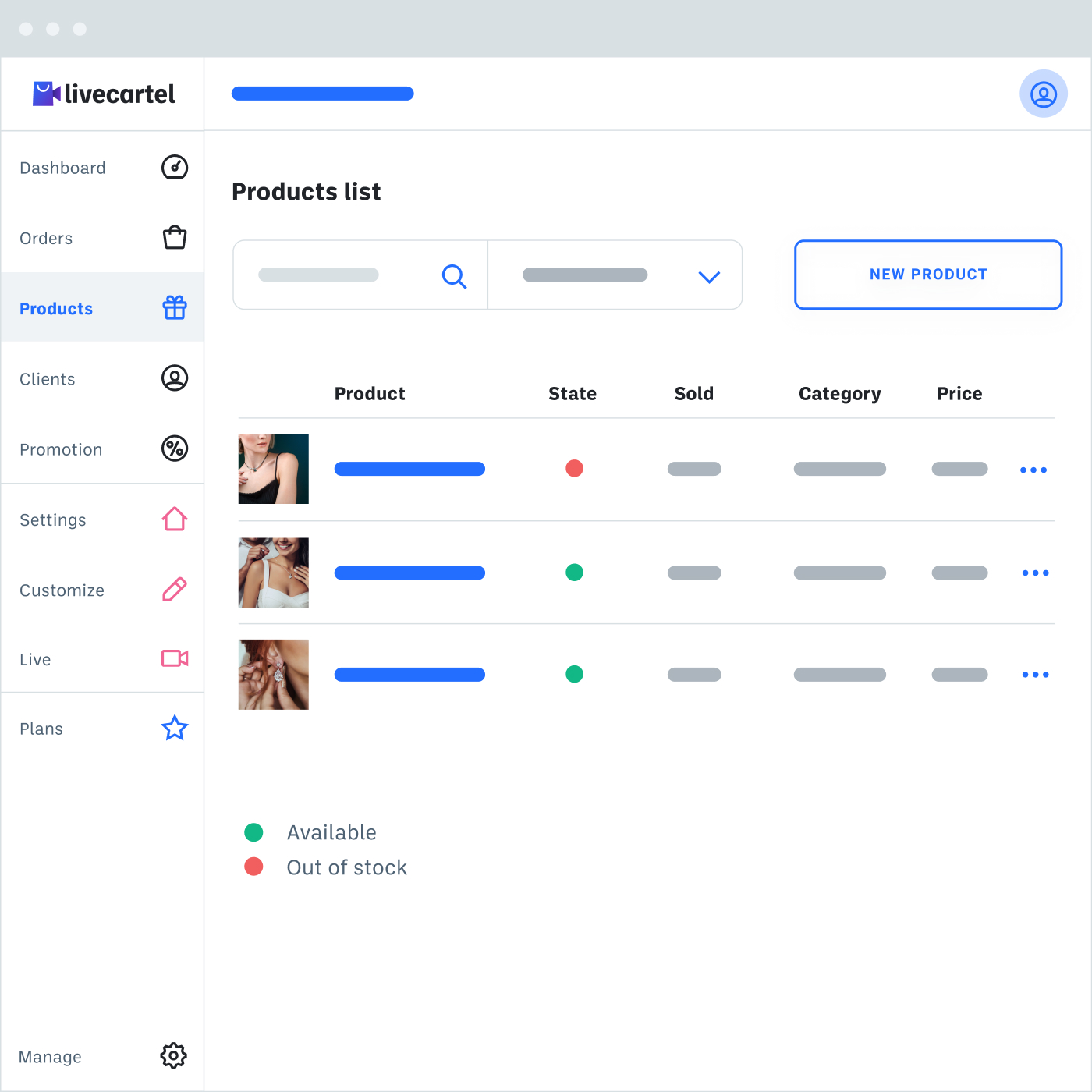 Sell Live
Enter the world of live-commerce
Sell your products even in live-streaming as if you were on TV, but without advertising and without distractions for the viewer. People will be able to interact in real time and buy through the app, without having to use other tools or exit the live video.
Live streaming tool is included
Every store created with Live Cartel is ready to sell also in live-video. You will be able to offer your customers an innovative, unique, fun shopping experience that will ensure you more sales in no time.
Set up your live video
Give a title to your broadcast, for example "Preview of the collection", choose if your live will be public or accessible only by invitation, choose to enable questions from the public and whether to make them visible to all.
Associate products and promote
Select from your catalog the products to show during the live. Just tap on them and they will be in the foreground during the broadcast. Now you just have to share the live link to your contacts.
Schedule or start now
You can prepare in advance, and schedule the start of the live video by choosing the day and time. If you want to get started now, just click on Start Live and you'll be online, ready for your audience.
We really help you sell online
Simple and fast
Nothing to install, all included, pre-configured options - your online store setup takes seconds.
Traditional and live checkout
Live Cartel is the only e-commerce platform as a service with live-streaming sale tools included.
Mobile Commerce
Live Cartel is perfect for mobile, both for buyers and for merchants to manage their stores.
No limits
Additional pages, unlimited products with variants, promotional coupons and shipping options.
Invoices, returns and refunds
Take under control every stage of your sales flawlessly, lightning fast and super efficiently.
Unbeatable management costs
No fees on revenues from us, collections through Stripe with very low fees.
Open your online store today with Live Cartel
Enter the world of Live Commerce, starting from the online store. We will help you grow over time.